SPECIAL EVENTS
"School of the Wilderness"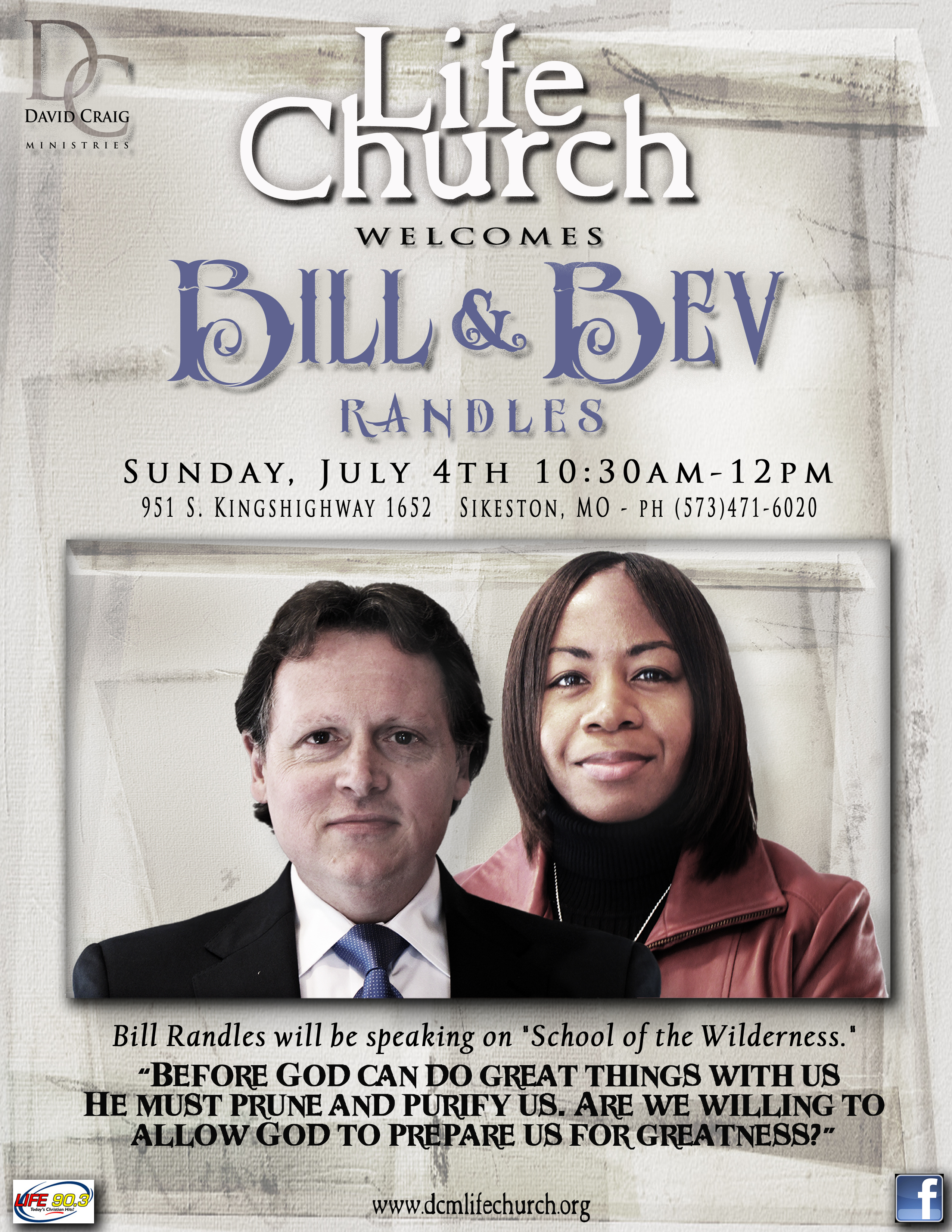 We welcome you to join us at Life Church July 4th weekend to hear our special guests Bill and Bev Randles! Bill has already given us a peek at what they will be sharing….."School of the Wilderness"
Quote from Bill Randles- "Before God can do great things with us, He must prune and purify us. It is not pleasant when it happens, but afterward I have never encountered anyone who didn't think it was worth it. Are we willing to allow God to prepare us for greatness?"
We are honored to be given this opportunity to have them in and want to thank Holly Reheder, board member of Life Church for making this connection.
Just for a little FYI on our guests:


Bill Randles is a lawyer, ordained minister, former pastor and businessman. When he was 16, he was called to preach and preached extensively throughout the Ozarks. He has been an associate pastor and pastored two churches. For most of the last 20 years, Bill has practiced with an international law firm based in Kansas City, Missouri. He became a partner and lead trial lawyer, trying cases for Fortune 500 companies all over the country. In 2009, Bill and his wife, Bev, founded Randles Consulting, LLC, a public policy and communication firm.



Bev Randles practiced at the same law firm as Bill for many years. She earned her law degree from the University of Missouri – Columbia School of Law in 1999 and holds a Bachelor of Arts degree, cum laude, from Murray State University. Bev is very active in ministry and is the former director of their church's Marketing and Communications Ministry and Outreach. She has served on a number of non-profit boards and currently serves national, state and local civic and political organizations. In 2008, Bev was honored for work in the civic and legal communities by the Missouri House or Representatives and the Black Law Students Association at the University of Missouri. In 2010, Bev was appointed to the Missouri Advisory Council to the U.S. Commission on Civil Rights.

Life Church Welcomes

Live Concert every Friday @ 7 pm starting April 16th, 2010
"Sense the Fall" was a featured artist at "Life Fest" in Poplar Bluff MO and boast a dynamic "Christian Indie Rock" style. "We are five guys who are passionate about our faith in our Father and we want nothing more than to share it with all of you." We are located at the corner Stalcup and South Main across from Lowe's Warehouse in Sikeston, MO. Admission is free but a love offering will be received. For more info, call 573-471-6020 or visit the band's site at www.myspace.com/sensethefall.
Message from the Band:
We are more than a band. We are brothers in Christ. We are a ministry. We are five guys who are passionate about our faith in our Father and we want nothing more than to share it with all of you. We are not worthy. But mostly we are children of the most high God…followers that are sent on a mission to reach out to every group of people in hopes to pull them into God's glorious light.
For More Information,
CONTACT US