Pastors David and Harriet Craig and Family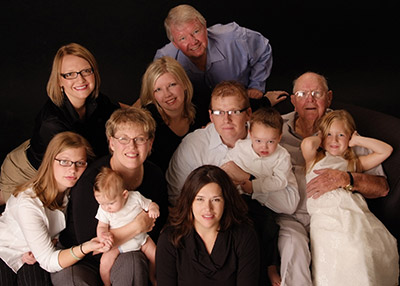 For information regarding our beliefs, click here: Statement of Faith
For information on the Bible's message of Salvation, click here: Road to Salvation
To read about our mission as a church, click here: Mission Statement
With almost 30 years in the ministry, Pastor David Craig, ThD, can teach you how to be a Success in Life through Christ.

Growing up in the heartland of America, the third of six children to a farming family, Pastor Craig knows what it is like to work hard but possess little. In his personal search for fulfillment, he found it is possible to become a success in life through Christ no matter what life has dealt you. Through the application of Biblical principles, combined with mannerisms that can only be described as 'down-home', David teaches his audiences how to "Come Up!" from the circumstances of life and "allow the windows of Heaven to be opened upon you to pour down blessings you don't have room enough to receive!"

Pastor Craig is also well known for his marriage teaching the "Noble Knight", financial blessings through "Seed Sowing", "Who You Are in Christ", as well as many other life changing messages.

Background
At the age of 22, David Craig graduated from the University of Mississippi, Oxford, with Bachelor of Science degrees in Biology and Psychology. After two years of post graduate work in Biology, David joined the United States Army Medical Corp serving as a 1st Lieutenant for three years before moving back to Southeast Missouri. Knowing in his heart that something was missing, he turned his life over to Christ in 1977 and began his teaching ministry by 1979.

God has put a desire in Pastor Craig's heart to teach to every nation through Television, Radio and International Missions. Today, David Craig Ministries' broadcast messages in over 8 states by Local Television Stations and via Internet, DirecTV and Satellites worldwide. David himself has taught in eleven countries and looks forward to adding new ones this year. David Craig Ministries recently purchased their first radio station: 25K watts, KLUH 90.3 FM, out of Poplar Bluff, Missouri.

In addition to his pastoral duties and his multiple broadcast ministries, Pastor Craig is also an Executive Board Member of American Missionary Teams. He is the Central American Director of International College of Bible Theology and Midwest Theology Seminary.

American Missionary Teams is the evangelistic arm which trains mission teams for world wide outreach with evangelistic campaigns, networking with established churches, new church plants, opening Bible training centers and colleges, orphanages, providing humanitarian, disaster, and medical aid.

International Bible College of Theology prepares lay ministers to be servants locally and regionally being active members in a local church congregation. IBCT currently has over eleven thousand students in classes all over the world.

Midwest Theology Seminary trains the five fold ministry for effective work in the Kingdom of God with classes that help the minister equip the congregation for more fruitful ministry.

David and his wife, Harriet, have been married for over 36 years and have four children and three grandchildren. Harriet is Associate Pastor with David at their local church, Life Church, located in Sikeston, Missouri.

For More Information,
CONTACT US